Live Learning
"This workshop went above my expectations and will be helpful whether I stay in my current field or not. Cassandra, you're a natural talent and I thank you so much for teaching me new things I really can use!" – J. Leggett, Offutt AFB, NE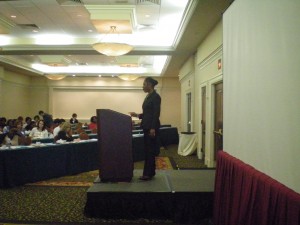 As the D.I.V.A. of Dialog™, I am known as a leadership speaker who motivates my audiences by using Divine Inspiration Vocally Applied™ to help them remove the landmines blocking their career success.
Whether you are an administrative assistant, receptionist, office manager, executive assistant, manager, supervisor, professional woman, entrepreneur, or simply someone seeking advancement and empowerment opportunities, you will find my live learning programs beneficial in creating immediate results in the areas of your life that count the most.
Below are a few of my live learning opportunities for you. Select the event you will attend and use the instructions provided to reserve your space.
SPEAK WITH POWER: Communication Cure Conference (COMING SOON)

VIDEO: Learn to Be Specific
Can't attend? Visit http://www.divaofdialog.com/invite to book me for a lunch-n-learn, half-day, or full-day seminar at your company. Or, download the Event Request Form to e-mail or fax your booking.